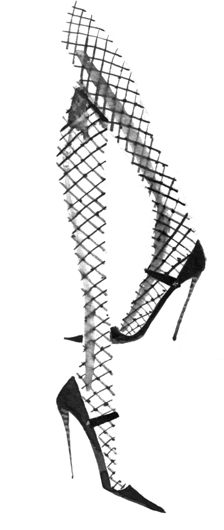 I was born in Coney Island, Brooklyn and grew up all over New York City. As a kid, I loved running around my cement backyard and enjoyed Sundays, when I could read Charles Schulz's Peanuts in the paper and watch Bugs Bunny all morning with a giant bowl of Cocoa Pebbles. Comics, cartoons and picture books inspired me to draw and want to be an artist. I wanted to be everything from a painter to a sculptor, and in high school my interest turned to fashion.
After graduating Parsons School of Design for Fashion Design, I began a career as a footwear and accessories designer. I loved my job, but I could never stop drawing. Eventually, I put together a small book of illustrations and dropped it off to any art director who would look at it.
My first illustration commission came from Barney's New York in 1995 and since then, I've had the great pleasure to work with Daily Candy, Tiffany & Co, Target and many more private and commercial clients.
In 2007, Little Brown & Co. contacted me and I was able to live out a childhood dream of doing a children's picture book of my own. "Birdie's Big Girl Shoes" was published in 2009 and a whole new and exciting world of illustration has opened up for me and I couldn't be more grateful.
I now live in Westchester, NY among a few hundred chipmunks, raccoon and deer - all of which equally terrify me. Luckily, I also live with my amazing artist husband, Bob and our most beautiful and hilarious son, Charlie.
Thank you so much for visiting my site.